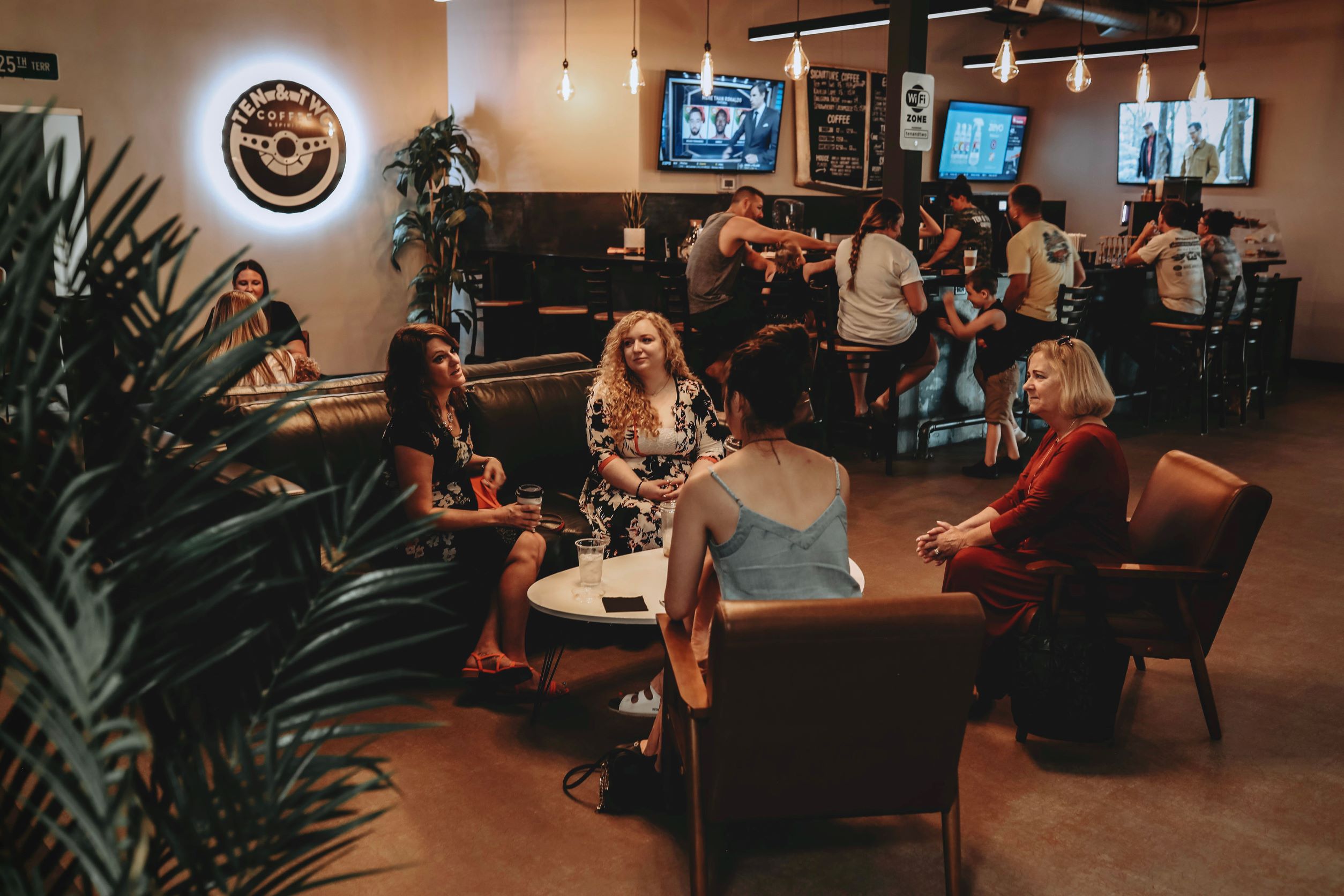 Ten & Two Coffee Lansing is our newest location in the always developing town of Lansing, Kansas. The coffee shop can be found at Seven12 Station, a Health & Wellness Hub, located at 712 1st Terrace Lansing, KS 66043.
The property offers 24/7 gym access, physical therapy, chiropractic care, family health practices, legal services, conference rooms, co-working spaces as well as private offices.
Come in early and fuel up with our signature Ten and Two coffee, latté, cappuccino and espresso option. Grab a breakfast sandwich on the side, get comfortable and get some work done in our comfortable seating area.
Ten & Two Lansing is the only coffee shop in town where you can come up, plug in and unwind. Join us soon!
Book Our Conference Room
At Ten & Two Lansing we also have a Conference Room which can be booked below. Seats 10.
Please note that a non-refundable $20 fee is associated with each booking. This fee is really a $20 gift card that you can use to buy food, drinks, or gear at our location. Also, please know that a maximum of 8 hours is allowed in the conference room.
Book Our Space for a Private Event
Host your party or event at Ten & Two Lansing!
We are now booking events for Lansing location. Let us help you with the details so you can enjoy your guests. Email Lindsay for more info: lindsay@tenandtwocoffee.com.
Happy Hours
Graduation Parties
Baby Showers
Bridal Showers
Anniversaries
Holiday Parties and More!
Upcoming Events
Lansing
Join us every 3rd Thursday of the month June - September for family fun, music,…
Learn More
Lansing
Join us every 3rd Thursday of the month June - September for family fun, music,…
Learn More
Lansing
Join us every 3rd Thursday of the month June - September for family fun, music,…
Learn More
Lansing
Join us every 3rd Thursday of the month June - September for family fun, music,…
Learn More
Delicious Flavors
Vanilla
Sugar Free Vanilla
Hazelnut
Mocha
White Chocolate Mocha
Sugar Free Mocha
Chocolate
White Chocolate
Caramel
Kahlua
Tennessee Honey
P.M. Fuel
Housemade Flavors
Honey Whiskey
Black Cherry Whiskey
Corsair Spiced Rum
Stout Caramel